ProBLEN HGH

Our Original HGH Product!
Our ProBLEN HGH supplement was one of the first legitimately tested over-the-counter human growth hormone products available and its formulation was among the first non-injection therapies to be used in the successful treatment of human growth hormone deficiency in anti-aging clinics back in the late 1990's.
This U.S. made HGH sublingual spray is formulated to produce health, fitness, and anti-aging benefits effectively and safely.
It is designed to help the body to improve and balance human growth hormone and to treat symptoms associated with low HGH levels such as decreased energy, decreased strength and stamina, increased fat, decreased muscle, poor sleep, low libido, wrinkled skin, poor hair condition, decreased memory, and more.
Contains our #1 clinically tested HGH Formula, no competitor's product is more effective!
Why Choose This Supplement?
ProBLEN HGH spray is a safe and effective homeopathic formulation that contains U.S. pharmaceutical human growth hormone along with USDA cleared pharmaceutical pituitary and liver glandular. These glandulars are added in order to provide important support and to promote a healthy pituitary gland and liver.
None of the so-called "HGH" pill and powder products contain any form of human growth hormone. They contain a few amino acids and vitamins and they may also contain herbs.
Only the highest quality ingredients are used. The formulation is checked for purity and potency at several stages throughout the extensive homeopathic manufacturing process to ensure the highest of quality and effectiveness.
Many of our clients monitor their blood IGF-1 levels. They see and feel the benefits and their doctor is satisfied because they are keeping a healthy IGF-1 level.
Unlike prescription products this safe non-prescription homeopathic spray will not shut down the body's own production of hormones. It is designed to work naturally with the body to provide optimum benefits that are sustainable!
Proven By Independent Randomized Placebo IGF-1 Clinical Studies!
The HGH formula in this product was shown to increase IGF-1 blood levels higher than any other non-prescription formula properly tested for effectiveness. IGF-1 levels measure the increase of human growth hormone in the body. No competing product at any price has better clinical study results!
More Information About Our Clinical Studies.
It's FDA Registered
This U.S. made product has been awarded an NDC number by the FDA. It is manufactured under strict FDA and HPUS guidelines using the highest quality pharmaceutical grade homeopathic ingredients. Most other products are not FDA registered and don't have an NDC number.
Regarding Our Two HGH Containing Supplements
Although this product is no longer our best it is still better than the others on the market. We invite you to compare it with competitor products costing much more.
Some cost as much or more than our best HGH Plus IGF-1 & IGF-2 product, yet they contain no more active ingredients than this product, and competitor's products do not contain our clinically tested and #1 rated human growth hormone formula!
If you are looking for the supplement that should provide the strongest and widest range of benefits the fastest you should choose our HGH Plus IGF-1 & IGF-2 product.
However, if you are wanting an effective supplement that costs less and provides better benefits than competitor's products costing much more you should choose this product, because you will not find any from competitors that is better!
A Four Week Survey of Client Benefits.
More About HGH Sprays
About Homeopathic Human Growth Hormone
Expected Benefits When Taking Homeopathic HGH
How Homeopathy Works
Please also see the links found in our top menu for much more information about growth hormone and HGH supplements.

---
U.S. Pharmaceutical Grade Homeopathic Ingredients
Human Growth Hormone (Somatropin): 30X
Pituitary Extract: 30X
Liver Extract: 6X
Base Solution: 70% Purified Water, 30% Organic Alcohol (holds potency stable and enhances absorption)
Sublingual spray. Each 30 ml bottle is a 30 day supply.
FDA NDC #50845-0015 - No prescription required in the U.S.

ProBLEN HGH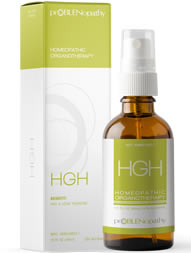 More Information About Homeopathic HGH
Bibliography
Davis, PhD, Howard A, "Feeling Younger With Homeopathic HGH - The Leading Edge For Anti-Aging," Safe Goods, 1998.
Jürgen Clausen, Sian Moss, et al, "CORE-Hom: A Powerful and Exhaustive Database of Clinical Trials in Homeopathy," Homeopathy, Volume 103, Issue 4, 2014, Pages 219-223.