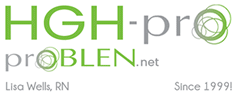 About Us
HGH-Pro was founded in April 1999 by Lisa Wells, RN, a registered nurse with 40 years of experience. Sixteen of those years were spent in critical care and emergency medicine and the last 24 years have been spent in anti-aging and hormonal medicine with a focus on homeopathic hormonal therapies.
Products and Service You Can Trust
We offer homeopathic anti-aging and hormonal products under the ProBLEN label. We have been at the forefront of product development for years, even before anti-aging became so popular. In fact, our original HGH was one of the first legitimately tested growth hormone products on the market.
The physician who heads our FDA registered pharmaceutical lab has over 30 years of experience. He developed the first advanced delivery system that allows homeopathic hormonals to be successfully absorbed sublingually.
He has worked to expand homeopathy and developed what is called "neohomeopathy" which provides more comprehensive benefits. He and his colleagues continue to work to advance the area of homeopathic anti-aging medicine. Our HGH Plus IGF-1 & IGF-2 and other anti-aging products are based on his latest achievements.
Top Quality Assurance and Standards
Although the area of anti-aging products has become much more competitive over the past 24 years, with very low priced and low quality products now flooding the market we continue to refuse to compromise on the quality and safety of our products or our customer service. All our products are U.S. made and FDA registered, and the professional customer support we provide is second to none. All questions concerning health and our products are addressed by medical professionals only.
Our Mission
As is hopefully apparent by our many pages of information and articles, we strive to give our clients and visitors the most accurate information possible so each person can make an informed decision.
Our goal is to provide extensive and accurate information through our website and personal contact, and to offer only the finest, most effective products available.
To see a list of most of our many pages of educational information and articles, as well as many pages of information about our products please visit our sitemap.
We Offer:
Free client consults and support to HGH-Pro clients by experienced medical professionals.
Toll free phone ordering in the U.S., international phone ordering, fax ordering.
We accept Visa, MasterCard, Discover, AMEX, debit cards, money orders, cashier's checks, personal checks, bank transfers, Western Union.
Convenient and money saving AUTOSHIP automatic delivery program.
Worldwide shipping via U.S. Postal Service Priority and Express delivery.
Health Articles by Lisa Wells, RN
How HGH therapy helped me - My own testimonial about how I came to take homeopathic HGH and why I founded HGH-Pro in 1999.