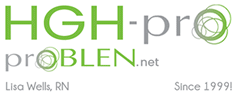 Welcome From Lisa Wells,RN
Thank you for visiting our site. I founded this site 24 years ago before growth hormone and anti-aging therapies became so popular. Back then few medical professionals took anti-aging therapy seriously and most did not believe in homeopathic human growth hormone or the more natural ways to support the body. We have come a long way since then and through all these years we have remained on the cutting edge of anti-aging supplement development, and we have remained dedicated to making sure we consistently offer the absolute best in safe and effective supplements. These are the same supplements I take myself.
Our anti-aging sprays are formulated by an internationally known team of physicians with over 30 years of experience. Long recognized in this field the physician who heads our research and development team developed the first effective homeopathic hormone sublingual spray delivery system. He also formulated the first homeopathic hormone re-balancing medicines to successfully treat the symptoms of aging.
Our supplements are U.S. made in an FDA approved lab with the highest GMP and HPUS quality standards while utilizing advanced delivery systems to ensure complete absorption.
Each ProBLEN supplement is FDA registered with its own NDC (national drug code) number. They are sold as legal over-the-counter supplements in the United States without a prescription.
The formula in our ProBLEN HGH spray has been used successfully in anti-aging clinics because it has legitimate independent randomized double-blind placebo IGF-1 clinical studies to back it up.
Due to these facts our supplements have been considered safe and effective homeopathic therapy by doctors and specialists in the area of anti-aging and health and fitness for many years now. Our supplements are carried in some doctor's offices under our label and some offer our supplements under their own labels.
Our supplements are safe homeopathic formulations that are designed to work naturally to help restore and balance hormones and rejuvenate the body.
Each hormonal supplement contains the targeted homeopathic hormone and it is listed as an active ingredient on the label.
They are an easy to take liquid sublingual remedy sold in 30 ml bottles, a one month's supply.
Each comes with a 100% money back guarantee and clients may speak with a medical professional about any questions or concerns they may have.
The Proof is in the Clinical Studies Results
ProBLEN HGH holds the record for raising the blood IGF-1 level higher than any other product independently tested! These randomized double-blind placebo-controlled IGF-1 clinical studies are used to measure the effectiveness of growth hormone supplements.
Most HGH supplements have had absolutely no IGF-1 clinical trials to measure effectiveness. Compare our prices to the others. Why would you pay more for a supplement that has no clinical evidence that it can do anything to increase your growth hormone?
Don't be fooled by all the websites that list what they call the best HGH supplements. Such sites are owned by the same companies who sell the product they rate as best, or by their distributors.
If you want the best product please know this: In independent clinical studies our ProBLEN HGH showed the highest increase of IGF-1 that has ever been accomplished with a non-prescription product, and that should be most important for those wanting to receive optimal benefits and receive them safely.
ProBLEN HGH and HGH Plus IGF-1 & IGF-2
Understanding HGH Supplements
There are several types of HGH products, both prescription and non-prescription and numerous brands available. It can be very confusing trying to understand all the information given about the various products available.
Our supplements contain human growth hormone in homeopathic form. In fact, all supplements that are said to contain HGH contain it in homeopathic form only.
In order to be effective every non-prescription product on the market must help the pituitary gland to increase its release of human growth hormone. Only the injections can give your body all the growth hormone you need without help from the pituitary gland.
There are some who claim their HGH supplement is not a secretagogue, precursor, nor homeopathic, but no matter what they call it, the only type of HGH it can contain is homeopathic.
You might notice many of these supplements contain a variety of ingredients that range from vitamins, minerals, and amino acids, to various herbs such as ginkgo and ginseng. Our products do not contain ingredients that may mimic the benefits of growth hormone.
Besides the information about our own supplements this site provides much information about growth hormone such as how it works and its benefits and risks. Articles I've written about the adrenal glands, thyroid issues, the hormones that decrease with age, and other health subjects are also included at this site. You should find the answers to any questions you have by using our search box to search our site or by utilizing our FAQ's and sitemap, but if not please call. You may also reach me by clicking Customer Service in the top menu of every page and I will answer your questions promptly.