Metals Detox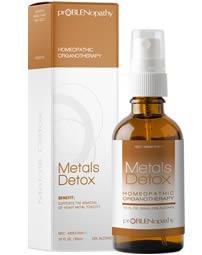 Introducing Our New Metals Detox Product!
ProBLEN Metals Detox sublingual spray is a safe and affordable formulation that focuses on the removal of metal toxins from the body.
It also aims to help relieve symptoms one may experience when they have high levels of metals in their body.
Symptoms associated with metal toxicity include headaches, fatigue, nausea, vomiting, diarrhea, abdominal pain, poor concentration, muscle aches, anemia, and more.
Metal Detox has no side effects or known drug interactions.
Do You Need Metals Detox?
Did you know that the amalgam used in teeth fillings contains mercury, and it is still being used today? If you have any fillings in your teeth then the mercury may have been seeping into your body the entire time you've had the fillings.
Many people have had their amalgam fillings removed and new fillings that do not contain mercury are used. This is great, however, if you've had those old fillings for years your mercury levels may be high.
Metal toxicity may cause health problems related to the brain and neurological system, the thyroid gland and endocrine system, the heart and cardiovascular system, and the liver and kidneys.
There are blood, urine, and hair tests that can measure the amount of metals in the body.
---
U.S. Pharmaceutical Grade Homeopathic Ingredients
Alumina 30C
Arsenicicum Metallicum 30C
Mercurius Corrosivus 30C
Niccolum Metallicum 30C
Plumbum Metallicum 30C
Radium Bromatum 30C
Stannum Metallicum 30C
Inactive Ingredients: Purified Water 80%, Organic Vegetable Alcohol 20% (to hold potency stable and enhance absorption).
Sublingual Spray. Each bottle is a 30 day supply.
FDA NDC# 43853-0016-1 - No prescription required in U.S.
Blank Progress Form to Print and Use
---
More Information About Ingredients
Alumina - For treatment of aluminum toxicity and feelings of restlessness, confusion and headache pain.
Arsenicicum Metallicum - For headaches, hands and fingers feeling swollen and hard to close, and for drowsiness during the day.
Mercurius Corrosivus - Used for treatment of inflammation and toxicity in the body, especially mercury toxicity, also helps abdominal discomfort, mental confusion and headache.
Niccolum Metallicum - For headaches, weak digestion, pain in the limbs, and feelings of weakness, especially in the evening.
Plumbum Metallicum - For treatment of lead toxicity, and a variety of other health conditions.
Radium Bromatum - For feelings of irritability and restlessness, aching pains all over body, and fatigue.
Stannum Metallicum - For treatment of tin toxicity and feelings of anxiousness, dizziness and weakness.

ProBLEN Metals Detox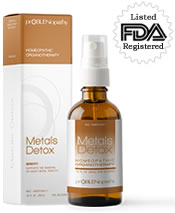 Product ID: MT
Retail per bottle: $24.99
Save With Quantity Pricing!
100% Money Back Guarantee!
Sublingual Spray.
Each 30 ml glass bottle contains a 30 day supply.
Click below to see our specials and place your order!