The Only HGH, IGF-1, Velvet Deer Antler Product Available!
If you have been considering injections or the pill and powder products that all contain nothing more than amino acids, vitamins, and/or herbs which you may already be taking in protein powders and other supplements why not try our FDA registered HGH Plus IGF-1 & IGF-2 product first?
No other product contains actual pharmaceutical rDNA HGH (Somatropin), pharmaceutical rDNA IGF-1 (Somatomedin C), and velvet deer antler (VDA) all in the same product, and in the amounts required to provide optimum results!
99.5% Satisfaction Rate in the First 30 Days!
100% Money Back Guarantee!
FDA National Drug Code Number - 50845-0180
The Most Advanced and Effective HGH Product You Can Take
This product is used by physicians, medical personnel, bodybuilders, athletes, and others who refuse to buy into the hype of other products. Instead they insist upon independent IGF-1 clinical studies proving effectiveness and this sets us apart.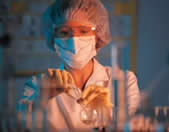 HGH Plus IGF-1 & IGF-2 contains the HGH formula that underwent independent randomized double-blind placebo-controlled IGF-1 clinical studies done by physicians over a 5 month period and showed the highest increase of blood IGF-1 levels in test subjects that has ever been obtained with a non-prescription product. IGF-1 levels are used to measure HGH in the adult body. The vast majority of other products and supplements have had no clinical studies at all to measure effectiveness!
A More Comprehensive Product
HGH Plus IGF-1 & IGF-2 utilizes the 3 pronged approach to human growth hormone therapy:
Replacement, Release, Activity
As age progresses not only does the body's supply of human growth hormone and growth factors decrease, the body's ability to properly use them also decreases. It is the breakdown of the entire process that plays an important role in bringing on the effects of aging. This product is specially designed to help restore this process and help the body to function at optimum levels.
HGH Plus IGF-1 & IGF-2 Contains 2 Sources of IGF-1!
Pharmaceutical rDNA IGF-1 - the same that is used in injections.

Velvet Deer Antler - the Best Natural Source of IGF-1 and IGF-2.
We anti-age and improve our health and fitness by building healthy new cells and to build these cells we need growth factors. They prompt the body to grow new cells to replace the worn out and damaged cells and to build the new cells required to increase muscle, regrow organs, build bone, renew the skin, hair, etc. Human growth hormone stimulates the liver to produce IGF-1, also called insulin-like growth factor #1 or Somatomedin C. It is actually through the work of IGF-1 that we receive most of the benefits associated with HGH.
Velvet deer antler is a superior source of 9 growth factors, including IGF-1, IGF-2, EPO, TGF, LH Stimulator, and contains 23 important amino acids, collagen type 2, glucosamine, chondroitin and other other important components.
It has been shown to provide improvements and symptom relief in 27 different areas of the body including muscles, bones, mind/brain, heart, liver, stomach, skin, eyes, and throat just to name a few.
It is one of nature's safest supplements for all ages and has been used as far back as ancient China.
The Absolute Best Choice For Bodybuilders and Athletes!
This product is best for bodybuilders and all fitness oriented individuals because of its unique combination of human growth hormone, IGF-1, and velvet deer antler.
Velvet deer antler itself is called a "natural steroid" because it offers many of the same benefits but it is not a steroid. It is a safe substance capable that has been used successfully by Russian and European Olympic athletes and professional bodybuilders consistently for decades due to it's ability to increase strength and muscle tone, build and sustain healthy bones and joints, increase stamina, increase flexibility, improve recovery and healing, decrease muscle and joint pain, and for general anabolic improvements.
Click for more information about this product for bodybuilding and fitness.
Active Ingredients - U.S. Pharmaceutical Grade:
rDNA Human Growth Hormone (Somatropin): 30X, 24X
rDNA IGF-1 (Somatomedin C): 8X
Velvet Deer Antler: 8X
Pituitary Extract: 5C, 7C, 9C
Liver Extract: 6X
Arnica Montana: 6X
Thuja Occidentalis: 6X

Base Solution: Purified Water 80%, Organic Vegetable Alcohol 20% (to hold potency stable and enhance absorption)
"I am so impressed by the quick, steady, and amazing results of your product, especially when compared to other products I've tried in recent years! There is no comparison, and in fact for about 6 months I was on Genotropin injectable HGH, and I honestly can't tell any better results from the injections than I can from your product, except the gigantic price difference compared to the incredibly low price of your product."

Jim Pinkerton

"I love this product! I took the injections for two months, and this product feels the same to me. I am getting the same type benefits I received while on the injections, such as increased strength, increased mental clarity, improved eyesight, better mood, increased sexual drive and I sleep well."

Steve Luptak
Read many more testimonials and reviews here!
Learn More About HGH Plus IGF-1 & IGF-2
Click Here For Dosage Instructions, Ingredients, Possible Side Effects
To check latest prices click an ad above or click below to enter our Secure Online Store.