Meet Lisa Wells, RN, of HGH-Pro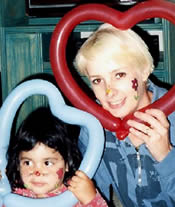 Thank you very much for visiting HGH-Pro, I hope you find this site helpful. I have done my best to provide the truth about human growth hormone and the different types of HGH therapies available, and I have tried to present the information in a way that can be easily understood, however, if you have questions please let me know.
I was born Lisa Hollis (maiden name) in Crossett, Arkansas in 1960. I graduated from Hamburg High School in Hamburg, Arkansas in 1978. I graduated from Louisiana Tech University and received my first license to practice registered nursing in 1983. From 1983 until 1992 I worked in neonatal and children's intensive care and from 1992 until 1998 I worked in a general emergency department and immediate care center.
In 1999 after a work related injury I tried homeopathic HGH. It helped me so much after my back and neck injuries that I decided to focus my nursing career on human growth hormone and anti-aging therapies. Because I felt it could help so many people, not just with anti-aging but also people with health conditions, I wanted to help get the good word out.
Before homeopathic HGH proved itself to me I did not believe in anything homeopathic. I had the same negative opinion that many others in medical professions have been taught to have, without ever really giving homeopathy a chance. Once it worked so well for me I realized just how narrow minded I had been and so I set out to learn as much as possible.
I founded HGH-Pro to provide honest and accurate information about human growth hormone and HGH therapies and to offer the absolute best clinically tested non-injection products available. I have now been working with HGH and anti-aging therapies for the past 15 years. (Please click the link below to read how homeopathic human growth hormone helped me).
Regarding human growth hormone therapies, for many years HGH was thought of as only a hormone needed for the proper growth and development of children.
Thanks to groundbreaking research we now know that HGH is very important for adults also. After we reach adulthood our hormones begin their decline and this decline plays an important role in bringing about the effects of aging.
We have been supplementing other hormones for years, we have finally realized what an important role human growth hormone plays in the continued good health and fitness of adults. Research has shown without doubt if we can boost our HGH and growth factors to a younger and more healthy level, and help our body to better utilize these substances, we can improve our health and fitness and reverse many of the effects of aging.
The Decision of Which HGH Therapy To Take
Once you decide that you do wish to improve your HGH you will be faced with the decision of which therapy to take. Some wishing to sell you prescription-only HGH injections claim that only the injections are effective, which is not true, and with the many different products now being swiftly brought into this market with heavy advertising and claims, in order to cash in on the anti-aging craze, it can be quite a challenge, trying to get to the truth.
As a registered nurse of over 30 years I consider legitimate independent clinical studies that measure the therapy's effectiveness at actually increasing the amount of human growth hormone in the body, as well as safety to be paramount when choosing an HGH supplement.
In independent randomized double-blind placebo-controlled IGF-1 clinical studies the HGH formula I take and recommend increased the human growth hormone (IGF-1) levels of test subjects more than any other non-injection HGH formula independently tested.
The physician who heads our FDA registered pharmaceutical lab has over 30 years of experience. He developed the first effective homeopathic hormone sublingual spray delivery system and he continues to provide the most advanced delivery systems available. He also formulated the first homeopathic hormone rebalancing medicines to successfully treat the symptoms of aging.
Long recognized as a leading physician in this field he has expanded the traditional concept of homeopathy through the development of Neohomeopathy. His formulation of our HGH Plus IGF-1 & IGF-2 product and our other ProBLEN anti-aging products is based upon his latest research and development.
Although our human growth hormone products come with a 100% money back guarantee, based on client feedback and our very low return rate most of our clients see benefits in the first 30 days.
Please see our many testimonials from our clients. We never solicit for testimonials, however, because I spend much of every business day conversing with clients, some will e-mail or call to let me know how they are doing. I enjoy very much hearing their good reports.
If you do choose HGH-Pro as your source for human growth hormone therapy please know that we will be happy to have you as a client, and because we offer free consults to all HGH-Pro clients for as long as they remain on our products, any time you have a question or concern please phone or e-mail us.
In closing, I would like to say that I do always recommend everyone consult their private healthcare provider about taking any health supplements, and follow his/her advice.
Lisa Wells, RN
How HGH therapy helped me - My own testimonial about how I came to take homeopathic HGH and why I founded HGH-Pro in 1999.
More HGH and Anti-Aging Information and Articles by Lisa Wells, RN