HGH Plus IGF-1 & IGF-2 Contains Velvet Deer Antler
*If you are just entering our site please also visit our home page for important information about choosing the best product!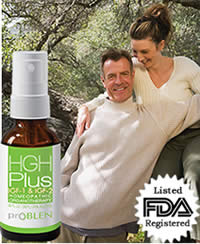 An important part of the HGH Plus IGF-1 & IGF-2 formulation is velvet deer antler, also called deer antler velvet.
Velvet deer antler, also known as "VDA" has been used for its known longevity and fitness benefits as far back as ancient China.
It has also been widely used for its athletic and bodybuilding benefits for decades in Russia and Europe.
In 1988 Dr. B.X. Wang, et al., studied and documented the effects of velvet antler on anti-aging. More recent studies have confirmed these anti-aging findings.
Velvet Deer Antler is a Superior Source of Important Growth Factors!
Velvet deer antler has been called a "natural steroid" although it is not a steroid.
It is a natural and safe substance that is capable of promoting strength and endurance, improving muscle recovery after exercise, enhancing sexual function, as well as providing a wide range of other benefits.
Velvet antler contains almost 40 health components, including 9 growth factors as well as 23 amino acids.
Velvet antler is also rich in collagen type 2, glucosamine and chondroitin.
Clinical studies have shown that VDA is the richest source of diverse growth factors in the animal kingdom.
Velvet Deer Antler is the Best Natural Source of These Important Growth Factors:
Insulin-like Growth Factor 1 (IGF-1)
Insulin-like Growth Factor 2 (IGF-2)
Erythropoietin (EPO)
Luteinizing Hormone Stimulator (LH Stimulator)
Bone Morphogenetic 4 Growth Factor (BMP-4)
Epidermal Growth Factor (EGF)
Fibroblast Growth Factor 8 (FGF-8)
Transforming Growth Factor (TGF)
Neurotrophin-3 (NTF-3)
Deer Antler Velvet - One of Nature's Most Effective Natural Ingredients!
Velvet deer antler is a natural supplement compounded when deer antler cartilage is harvested for nutritional and medicinal use. Each year male deer cast off their previous year's antler growth and in the spring a new cycle of bony antler growth begins at an extremely rapid rate, making deer antlers the fastest growing bony substance in existence.
The process of harvesting velvet deer antler takes place on regulated farms where correct handling and velvet removal techniques that prevent injury, stress, or pain are carried out by veterinarians. Within hours after the procedure the deer are back grazing on open pasture lands. Studies have been done by animal behaviorists to ensure the process does not cause stress or aversion.
More about the processing of velvet deer antler
Used in supplements velvet deer antler is known as one of the most full-spectrum health, fitness, and anti-aging ingredients available. Velvet antler is also considered very safe.
Please see the links below for more information about velvet deer antler and HGH Plus IGF-1 & IGF-2.
Learn More About HGH Plus IGF-1 & IGF-2
Click Here For Ingredients, Dosages, Possible Side Effects
FDA National Drug Code Number - NDC#: 50845-0180
To check prices and to purchase click below to visit our secure online store.
Why HGH Plus IGF-1 & IGF-2 may cost a little more than some other products.