Homeopathic HGH Sprays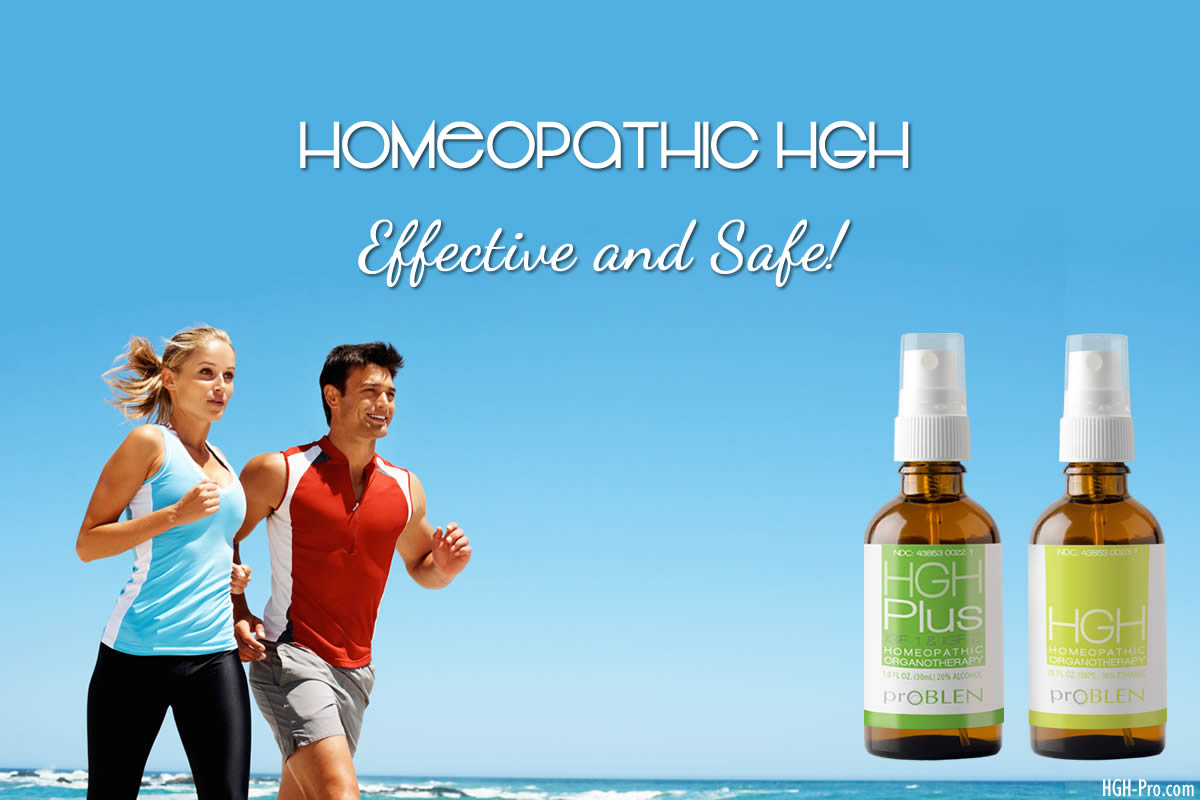 In the book Feeling Younger With Homeopathic HGH Dr. Howard Davis states that many people taking homeopathic HGH spray have reported the same benefits as those taking the injections, but their benefits are being obtained:
without having to inject themselves twice a day,
at a substantially lower cost,
and without the possible side effects a non-homeopathic dose could produce.
Dr. Davis also states in his book that Mr. Howard Turney, who took the HGH injections longer than any known adult, and is known as "the father of human growth hormone" changed from the injections to homeopathic HGH spray.
Yes, it is true that homeopathic HGH spray is safe, affordable, and very effective, yet some selling the pill products and others who sell black market and fake HGH injections, as well as some of the anti-aging clinics who want to sell you the injections themselves will claim that only the injections are effective.
The president of the American Academy of Anti-Aging Medicine states that most people do not need injections. He recommends we take non-injection products to help increase the human growth hormone released by our own pituitary gland.
He is against people taking the injections if they have a functioning pituitary gland that can be helped to produce and release more of its own HGH.
Please keep in mind, if those offering injections did admit that homeopathic HGH is effective they would lose much of their business. Many people would rather not inject themselves twice a day and make themselves dependent upon an artificial hormone if they knew they could receive very good results from a much safer and more affordable homeopathic product.
Those who take injections may become dependent upon those injections because their pituitary gland will no longer need to supply the same amount of HGH, and so it can become lazy.
Why begin that process now, if you still have a healthy pituitary gland that is capable of releasing more HGH with a little help from a safe and proven homeopathic product?
Make Sure the Product You Take is Real Homeopathic HGH
Please be aware that not all spray products are homeopathic, and not all contain actual homeopathic human growth hormone. Some sprays only contain homeopathic amounts of vitamins, herbs, and amino acids.
On the other hand, some sprays are homeopathic yet their sellers want you to believe they are not. Please see "Claims About Sprays Not Being Homeopathic" for more about this.
Important Facts About Homeopathic HGH
Medical studies show that small amounts of HGH taken at frequent intervals work better, which is also one of the basic principles of homeopathy.
The pituitary gland releases a small amount of human growth hormone at various times throughout the day and usually during the first 90 minutes of deep slow-wave sleep. When taking the injections a full 24 hour's worth of synthetic HGH is injected either all in one dose in the AM or in two divided doses. This is not natural to the body.
Homeopathic HGH is best taken 3 times a day, and since it is serially diluted and potentiated at successive levels it continues to work in the body throughout the day and night.
According to homeopathic principles, the succussion process actually makes the growth hormone potent, or dynamic, so it is even more bioactive in the body. The homeopathic process energizes any elements that are produced in this manner!
The homeopathic form of human growth hormone does not seem to interfere with any other health product, supplement, or medicine that an individual might take.
The homeopathic form of HGH should gently encourage the pituitary gland to release and balance its own growth hormone in the body. This is called homeostasis.
Homeopathic HGH is more readily available and is easier to use than injections.
Homeopathic products made of liquid are far superior to tablets, because liquid is easier to use and penetrates faster and more thoroughly over a larger surface area.
The homeopathic theory of dilution and succussion teaches that molecules can penetrate the cells more easily.
Top quality homeopathic products are checked for purity and potency at the beginning, during, and at the end of the manufacturing process.
Since the inception of homeopathy in the 1800's, no homeopathic remedy has ever been recalled because it harmed someone. An FDA ruling in 1938 is a testament to its safety.
Over 200 years of research in homeopathy seems to show that it creates gentle positive chain reactions which promote general good health.
"Homeopathy cures a larger percentage of cases than any other method of treatment and is beyond all safer, more economical, and the most complete medical science." Mahatma Gandhi
More Information About Homeopathic HGH