Taking HGH with Health Conditions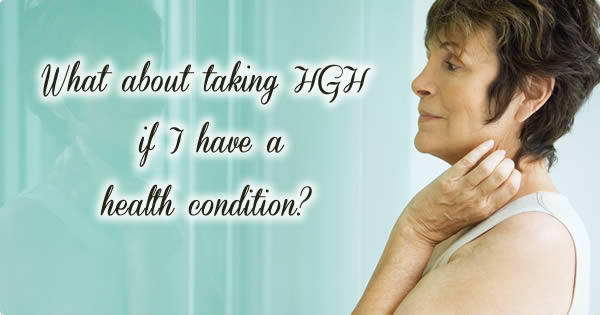 Below I have included information about taking our HGH supplements if you have certain health conditions, as well as information about any possible side effects.
HGH and Hypothyroidism
Over the years I have had clients report improvements with their hypothyroidism while taking our products. If you have hypothyroidism you should first consult your private doctor.
Improving human growth hormone in the body has been shown to help improve the functioning of the thyroid gland. However, in my opinion you will receive better benefits if your thyroid gland is already being supported by proper hormone replacement or nutrition.
Taking a homeopathic form of growth hormone should not put added stress on the hypoactive thyroid gland. However, HGH injection therapy may possibly aggravate hypothyroidism if the patient is not being properly treated for their thyroid issues. It is my opinion that HGH injections should not be prescribed to a patient whose thyroid gland is in distress.
If you have hypothyroidism you should have your thyroid levels checked before taking any HGH product and also during the time you are taking it due to the fact that if your thyroid function does improve you may not need as much of your medication. Keep your doctor informed so he/she can adjust your thyroid medication if needed as your thyroid function improves.
When using our homeopathic products the improvement is usually steady and does not cause problems, however, you should still watch for symptoms of hyperthyroidism that could possibly be brought about because you may no longer need as much thyroid medication. If any symptoms are noticed your private doctor should be contacted right away.
Please click below to read what happened with one of our clients who was being properly treated for hypothyroidism by her doctor and she started taking our HGH product.
HGH and Diabetes
In some clinical studies IGF-1 has been shown to improve certain diabetic conditions. If you are diabetic you should consult your private doctor about possibly taking our homeopathic product or any HGH therapy. While taking the product you should monitor your blood sugar for any changes. For instance, if the product decreases your insulin resistance or improves the functioning of your pancreas there is a chance your blood glucose might become lower than normal.
If you check your blood sugar level and find it low please follow your doctor's standing instructions regarding hypoglycemic episodes, such as immediately ingest foods high in sugar, and contact your doctor right away. If the HGH improves your diabetic condition your doctor may need to make changes to your diabetic medication.
How HGH and IGF-1 May Affect Diabetes
HGH and Hypertension
Improving human growth hormone in the body has been shown to strengthen the cardiovascular system and help stabilize the blood pressure. If you have hypertension you should consult your private doctor about taking our products. When you first begin taking any HGH therapy you should monitor your blood pressure.
Although we have had no cases of this happening, it is possible that if our product does help to lower your blood pressure and you are still taking the same dose of BP medication there is a chance that over time your blood pressure could possibly become lower than normal.
If you notice yourself feeling faint, weak or dizzy, or if you become dizzy when you stand up, you should contact your doctor. If the HGH helps to stabilize your blood pressure your doctor may need to make changes to your BP medication dose.
Taking HGH When You Have High Blood Pressure
Please note, regardless of health conditions it is always recommended that everyone considering any type of HGH therapy consult their own private healthcare provider and follow his/her instructions.
Lisa Wells, RN
Return to page 1: HGH Recommended Dosage Instructions
PLEASE READ: Possible Homeopathic Effects When Beginning Homeopathic HGH
Dosage Instructions For All Our ProBLEN Products