Our Right To Bioidentical Hormones Threatened!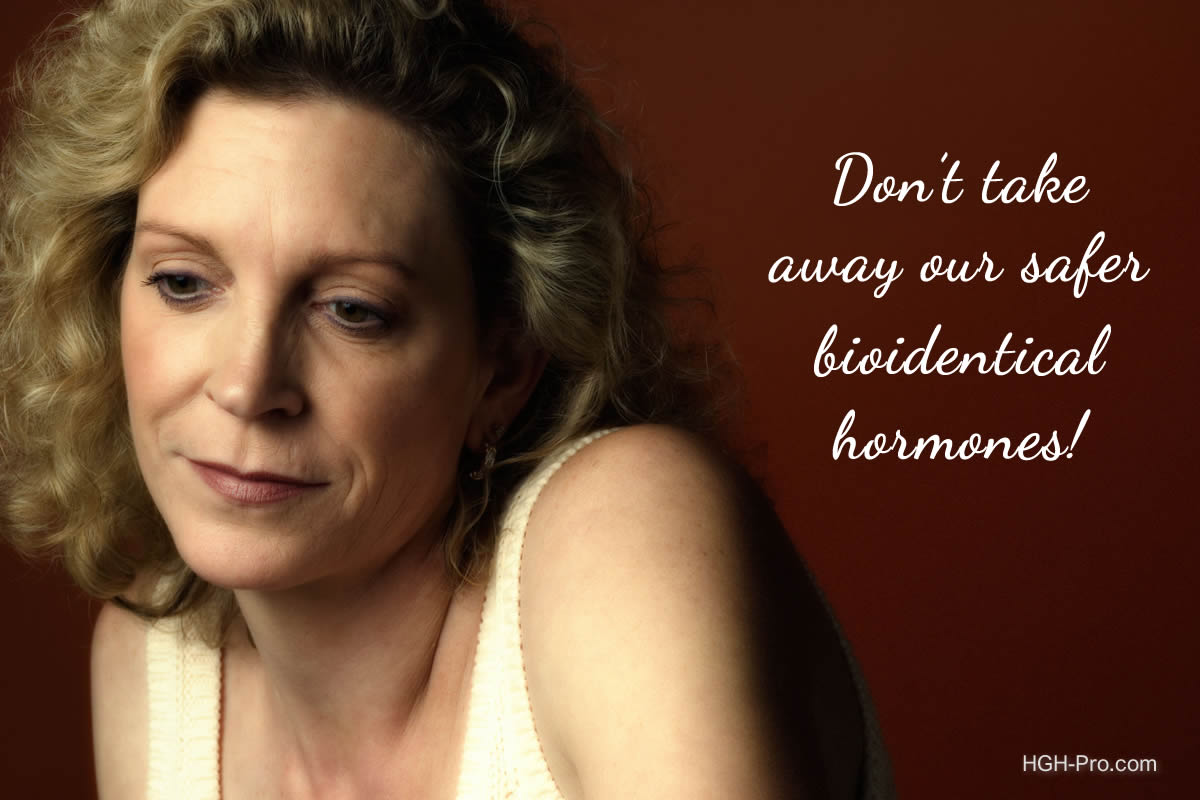 It seems our right to safe and effective natural health products and supplements is almost constantly under attack by Big Pharma.
For those who may not already be aware, Wyeth Pharmaceutical company, who makes one of the most widely sold synthetic female hormone products called Prempro, has filed petitions with the FDA.
It appears they are hoping to have women's bioidentical hormones removed from the market, or at least have our doctor's right to prescribe them curtailed.
The sale of both Premarin and Prempro has plummeted since the "Women's Health Initiative" (WHI) clinical study results were made public.
This study was suppose to show how safe these synthetic hormones are, instead it showed the opposite. In fact, the U.S. government stepped in and stopped the study early due to the increased risk of cancer in the group of nurses who were participating in the study.
In the WHI study women taking Prempro had a 26% higher risk for breast cancer than those taking a placebo.
Big Pharma seems to think it's fine for doctors to prescribe their Premarin and PremPro products which are made out of horse urine, all of which the human body sees as foreign and unnatural, even though they can cause life threatening problems. They have a huge problem, however, when doctor's want to prescribe a safe plant-based hormone that is identical to what the human body naturally makes.
Unfortunately, it appears that Big Pharma has never liked any natural products because they cannot be patented. The fact that the FDA depends on the major drug manufacturers for a large part of its income should make us all very uneasy.
I feel we need to spread the word and also let the FDA know that we believe we have a right to safe and effective plant derived hormone products that are identical to the hormones our bodies make and do not have the risks that certain patented artificial hormone preparations have.
---
Dear Readers,
I wrote the article above because I want everyone to know what is going on. There are those who would like to see all bioidentical hormones as well as all non-prescription products and supplements taken off the market.
Those of which I speak do not have our best interests in mind. They are interested in denying us access to safe and effective health products and nutritional supplements that may help to keep us healthy. It seems to me as though they would prefer we continue to have cancer, cardiovascular problems, diabetes, and other diseases of aging and nutritional deficiencies rather than allow us to use safe products and supplements to prevent or decrease our risks of these diseases.
Watch TV for only a few minutes and you will probably see at least one prescription drug advertisement. It seems that the big drug companies would rather we take their medications that do not cure but instead only treat the symptoms and require you to continue to take them for life. However, many of us would rather take a safe and effective natural product or nutritional supplement that aims to address the root of the problem.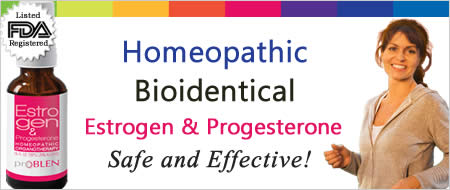 Bioidentical Female Hormones in Homeopathic Form!
Women who feel they are still too young to start a hormone replacement therapy (HRT) and also those who are afraid to take HRT due to risks they have heard about may wish to consider trying homeopathic hormones.
Homeopathic medicine is the safest form of medicine and does not carry the risks that pharmaceutical medicine does. For instance, our OTC hormone products contain bioidentical hormones but in homeopathic form. Because the hormones have gone through the homeopathic process they can provide benefits without the side effects and risks some women are concerned about.
For instance, we offer an FDA registered homeopathic product called ProBLEN Estrogen & Progesterone. It contains bioidentical estradiol, estriol, and progesterone, the same that is used in prescription HRT, but in homeopathic form.
This product is designed to provide you with the therapeutic properties/energies of the hormone molecules it contains. Prescription HRT can shut down your body's own production of estrogen and progesterone, our product does not do this. It can help your body to balance and make more of its own E & P when needed.
For more information about our product please click the link above.